praise for eternal (2011)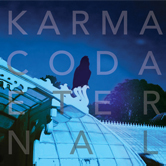 On their 2011 album, released ten years after their debut, Karmacoda demonstrate that they've become stalwarts of their own particular scene, inspired into existence by trip-hop and finding their own easygoing way around downtempo music inspired by Massive Attack's slow mood-out crawls.
However, it's just as noteworthy that Eternal doesn't stay solely in that vein, instead staking out a claim on various approaches and styles around their central musical axis. 'I Am Just Not Listening Any Longer,' with Heather Pierce's voice singing closely into the mic while the piano sets the downbeat, reflective, but not completely somber tone, is a strong effort, a classic statement of soul-burnt emotion, while 'Feel the Weight' isn't all that far behind, with a sweet, buttery chorus.
The dreamier flow of 'Into Each Life,' with plush guitar parts feeling like silk clouds against distant string parts, takes things into more of a Philadelphia International vein than anything else, while 'In a Little Bit,' starting out with no beats at all, almost feels like a really dark downturn about to be unleashed. When the electric piano part helps smooth it out a bit, along with Pierce's singing, it's a bit of interesting chill and repose instead. 'Repair and Beauty' ends it on a nice combination of moodier beats and a more inviting, welcoming feeling thanks to Pierce; it's a fine way to wrap things up.
- Allmusic.com
---
Most of the album is filled with bright, lighthearted tunes that float and sparkle like raindrops in slow motion. 'Into Each Life' is a chillout delight with kaleidoscopic vocals and very apposite strings. 'In A Little Bit' is guaranteed to get stuck in your head for days thanks to its catchy piano loop and the crystal bells of Heather Pierce's voice.
[The] production quality is superb, and vocals vary from good to 'to die for'.
- Trippintherift.com
---
The ear-catching 'Love Will Turn Your Head Around' is arguably the gem of the album, dark, languid, and teasingly dangerous sounding: in short, everything a trip hop song should, in the ears of this listener, be.
- Glide.com
---
There are a few noteworthy tracks, among them the slow and smooth 'Epic', which showcases singer Heather Pierce's dreamy soprano.
- Innocent Words Magazine
---
The 2011 release of Eternal follows Karmacoda's highly successful 2007 album Illuminate and mark's the group's seventh release. Eternal is an amazing effort, showcasing the best of the band's talents and features Karmacoda's signature thought provoking lyrics paired with ultra-hooky melodies and their trademark gorgeous vocals. All of which culminate into an emotionally engaging effort that creates a compelling sense of emotion and depth.
- Amazon.com
---
Not counting remix albums, we've waited four years since Karmacoda's previous release, and it was worth it. The vocals, musicianship, and songwriting are as polished as everything previous. As ever, the indomitable Heather Pierce, Eric Matsuno, and B. bring everything they have to this album. In my opinion, the hit on this album is track 4: 'I am Just not Listening Any Longer', very catchy lyrics and a sweet, sweet melody. However, the track which was released as a single - 'Love Will Turn Your Head Around' - is just as enjoyable, while you're listening to it you can actually feel your blood pressure drop. Nods to Beth Hirsch and Anji Bee who also brought vocals to that. It works. Eternal has its moments of funk, jazz, and electronica, but the vibe of this release is all Karmacoda, with their inimitable groove and chill energy. Think early Cardigans or a calmer, mature Blonde Redhead. As ever with this band, the production value of the album - from the artwork to the music on it - gets top marks.
- iTunes (Customer Review)
---
It only takes a few seconds to realize that you're in for a treat when you start listening to Karmacoda's new album Eternal- I was hooked right away after hearing the crooked synth on the opening track, 'If You Give it To Me'.
I've been a fan of Karmacoda for awhile, so I've been waiting for this album. I'm not a music nerd, but there is something in their layered, polished and rhythmic music that I always dig. It's cool to hear the beautiful voice of Heather Pierce set against the masculine tone of B. like on the catchy and sexy 'Get Me Through Another Lonely Night'. I challenge anyone not to be affected by the moody hooks of the instant single 'Epic'. It's a super bonus that Anji Bee and Beth Hirsch (of Air's hit 'All I Need') lend their considerable talents to 'Love Will Turn Your Head Around'.
- Amazon.com (Customer Review)
---
---
praise for illuminate (2007)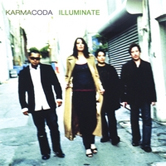 Coming from the San Francisco Bay Area to bring the world a melodic genre-blending third album release is Karmacoda, the female-fronted four-piece band with a message of emotion and the talent to back it up. The band's new CD Illuminate brings together several of the genres they have toyed with in the past including pop, rock, jazz, electronic, trip hop and punk. Visual imagery fills the lyrics which are brought to your ears by the richly sweet voice of Heather Pierce and delivered to completion by the band's multi-instrumental development of sound. The melody of the CD's first single, "Turn" is almost trance-inducing, but it is the complete package of the CD from start to finish which really demonstrates the way the band has blended multiple influences to create a sound of their own.
- Melodic.net
---
If you haven't heard of Karmacoda, then you aren't quite tuned into the live electronic music scene in San Francisco, because this band has been around since 2001, performing throughout the area (and elsewhere). The band cites as their objective, "to create music to reflect the emotion of a specific time and space in our modern world". They go beyond achievement of that objective, not only creating that music but doing so in such a listener-friendly manner so as to elicit emotional reactions from those who hear their songs.
Karmacoda is, at heart, an electronic music band, but what gives the band their infectious emotion is their forays into experience with other forms of music. With trip hop, pop, rock and even some jazz acting as the icing on their electronic cake, Karmacoda created for themselves a San Francisco following which has eagerly awaited their long-time-coming third album. The just-released album, Illuminate, brings all of the old Karmacoda to the table and gives it a tinge of punk edge. With twelve tracks to show off the four piece band's array of musical talent, Illuminate grabs you from the beginning and demands that you pay attention.
- SanFranVoice
---
If Karmacoda didn't exist we'd have to invent them. This band walks with credibility as members of the new urban San Francisco late-night sound.
To get a hook on Karmacoda's nonesuch music surprise yourself by Googling some of Picasso's early work. A realist painter who showed a mastery of the zeitgeist before writing his own rules for art. If Karmacoda's early releases demonstrate the same mindset, then their latest, Illuminate, is their mature and deliberate break with convention. Illuminate sounds less like a film soundtrack than Karmacoda's first discs, which is ironic since some of its tracks appear on the very pro-looking indie film, Voyeur.
As electronica goes it's very listenable. This groove is downtempo trip hop, but with a haunting, sometimes melancholy, vocal fix throughout. It feels dangerous to listen to it.
The hits are probably Spectre and Turn. The latter because of Heather's beautiful voice entwined with a folkish acoustic guitar melody. Make Like Me has a genuinely sweet flow, a backbone which thumps just slightly and a ringing distant piano line which we hear again on Skylines. The musicianship of Karmacoda is apparent throughout, although the duets of Heather and B work better in some places than. The album itself is produced within an inch of its life.
- iTunes
---
Illuminate brings to light a mature Karmacoda, an album full of much more than interesting soundscapes and dream-inducing vocals. Illuminate features a band that has masterfully created a new, authentic sound: their own.
Solid, songwriterly form, fresh instrumentation, top-notch production and of course Heather Pierce and B.'s gorgeous vocals captivate the listener, drawing them into Karmacoda's world straight away. Opening track 'Something' highlights dense, hooky harmonies with an upbeat, smirky attitude. 'Turn' combines lush strings and a hypnotic melody, creating a song that sticks in ones mind for days. 'Chapel' features the two singers sharing a striking duet, conjuring a melancholy so beautiful that one starts to feel uplifted. 'Spectre' evokes the dark sexiness that Karmacoda may best be known for, while 'Skylines' could catapult the band to stardom.
Illuminate is a shining album whose parting message is this: Karmacoda has upped their sound and with it, their game.
- Amazon.com